eLearning Log in
Login here using your username and password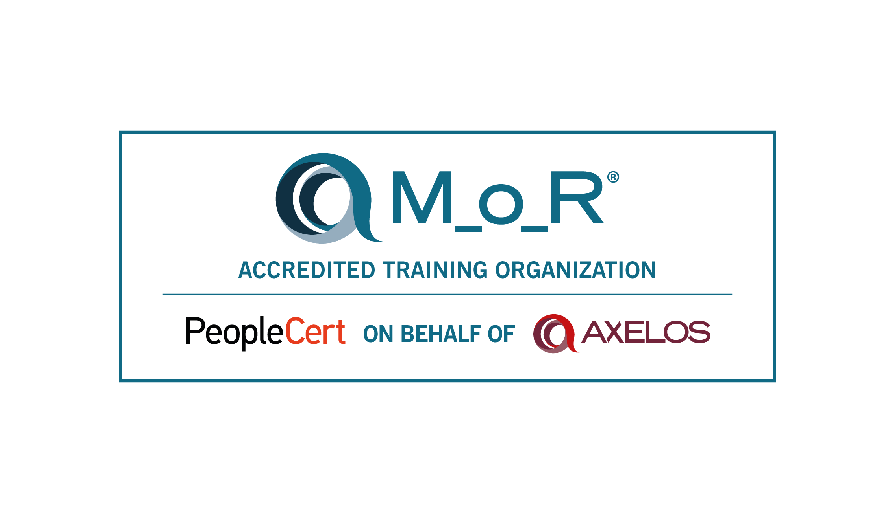 M_o_R® is a [registered] trade mark of AXELOS Limited, used under permission of AXELOS Limited. The swirl logo™ is a trade mark of AXELOS Limited, used under permission of AXELOS Limited. All rights reserved
Management of Risk (M_o_R®)
eLearning: £1,140 inc. VAT
Access: eLearning and Online exam for 12 months at Foundation & Practitioner level
Includes: Official eBook (Manual)
Duration: Approx. 18 hours
Pre-Requisites: Previous experience of Risk Management in a working environment
Looking for the Foundation by itself?
eLearning:
Buy Now
In-House: £POA
Our In-House service offers the chance to have our course content delivered to you by one of our accredited and certified trainers either in your workplace or via a virtual event, over the duration of five days. For any further information, click the "More Information" button below or alternatively fill in the contact form at the bottom of the page.
In-House:
Enquire Now More Information
Course Introduction:
Effective management of risk helps improve your performance. Informed risk-taking helps to improve performance through innovative approaches for managing the business, service delivery and value for money. Management of Risk (M_o_R®) is the best practice developed by the UK government. This course covers the latest version of M_o_R® released in December 2010.
Exam Information
M_o_R Foundation exam:
Multiple choice format

75 questions per paper

35 marks required to pass (out of 70 avaliable) - 50%

60 minutes duration

Closed book
M_o_R Practitioner exam:
Object Testing

4 questions per paper

40 marks required to pass (out of 80 avaliable) - 50%

3 hours duration

Open book (Management of Risk: Guidance for Practitoners' and ABC Guide Part A Example Techniques ONLY)
As well as the full eLearning course, on the course page is a mock online exam based on the latest exam papers.
Who is this course for?
This course is ideal for any staff with Risk Management responsibilities, in project, programme or operational activities, or who are involved in improving risk management practice in their organisation.
Directors

Operational Managers

Programme and Project Managers

Risk Managers

Business Change Managers
Module 1 - Introduction
This section covers:
Introduction to Risk Management including:

Definitions

Risk management perspective

The M_o_R Framework

The M_o_R Examinations

The M_o_R Approach
Module 2 - M_o_R® Principles
This section covers:
Requirements and Benefits of the Eight Principles:

Aligns with objectives

Fits the context

Engage stakeholders

Provides clear guidance

Informs decision making

Facilitates continual improvement

Creates a supportive culture

Achieves measurable value
Module 3 - The M_o_R® Approach
This section covers:
Central Documents

Risk Management Policy

Risk Management Process

Risk Management Startegy

Records, Plans and Reports
Module 4 - Risk Management Process
This section covers:
Identifying Risk

Assessing Risk

Planning for Risk

Implementing Change

Communicating Risk
Module 5 - Embedding and Reviewing the Management of Risk
This section covers:
Factors which enable Risk Management to become part of day-to-day activity:

Embedding and Reviewing the Management of Risk

Embedding the Eight Principles
Changing the culture for Risk Management
Module 6 - M_o_R® across the Perspectives
This section covers:
Operational Risk

Project Risk

Programme Risk

Strategic Risk
Module 7 - Additional Information
This section covers:
Risk Management Documents

Risk Management Maturity Model and Assesment

Health Checks

Risk Specialisms