eLearning Log in
Login here using your username and password
About Aspire Europe
Aspire Europe was formed in 2004 with the mission to be a niche programme management consultancy that supported organisations in improving their transformational programme delivery.
We have established ourselves at the forefront of the global development of programme management, in the modelling of the characteristics of high performing organisations and individual programmes and projects.
Our services have developed to meet the needs of our clients. To help them develop their people, processes and procedures and provide them with evidence of their progress and success. We have delivered services on every continent with the exception of Antarctica and have an active partner network around the world.
Rod Sowden

My career was mainly in the BBC, where I worked from 1987 through to 2002 when I set up Aspire Europe. I was the youngest ever Court Usher in Plymouth Magistrates Court history at 16 years old.

I enjoy playing football, watching Plymouth Argyle and running our boys U14s football team; surfing and hanging out in my VW Camper; Enduro and downhill mountain biking; snowboarding and sports cars.

Penny Lester

In 1996 I met some Manchester United players at their old training ground. When asked by my husband if I wanted a picture with David Beckham, I asked, "Who is he?" and opted for Ryan Giggs instead. Oh dear!

In my spare time I enjoy going to the gym, running, watching Bristol City (oh dear again!) and family time

Sarah Davis

I work as a Hospitality Box waitress at the Principality Stadium covering the Six Nations, as well as any concerts held there.

I enjoy a number of fitness activities and also like volunteering. I'm currently a Racemaker at Silverstone covering the F1 Grand Prix and MotoGP. I was also a Cricketeer at this year's ICC Cricket World Cup

Morag Van Eker

I have always loved keeping fit. Various sports are swimming, running and cycling.

Hobbies include making and decorating cakes, calligraphy, socialising and travelling.

George Fairchild

Keeping in line with the rest of the profiles, I enjoy playing and watching football (Plymouth Argyle), and watching combat sports.

I'm only 20, which means I don't have a story similar to everybody else😂
We have a complex mix of products that reflect the diverse needs of our clients and the current marketplace. We have always tried to stay ahead of the competition through our innvoation, and products we developed 10 years ago are still ahead of what the current market needs.
You can see from the main pages that, for ease, we split out services logically between Training and Consultancy, even though they often go hand in hand with most clients.
We have also made our services available across two delivery channels, wherever possible:
Aspire Digital - Delivery of a full range of our services online via self-service basis with back-up support from our team. You and your teams can create your own path to the right solution.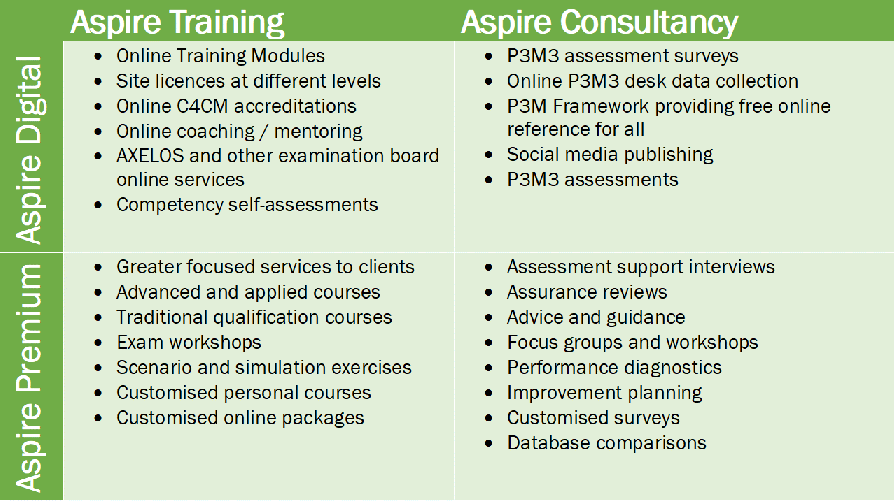 Aspire Premium - Our consultant lead personalised services where we bring our experience and ideas to help you resolve your challenge