eLearning Log in
Login here using your username and password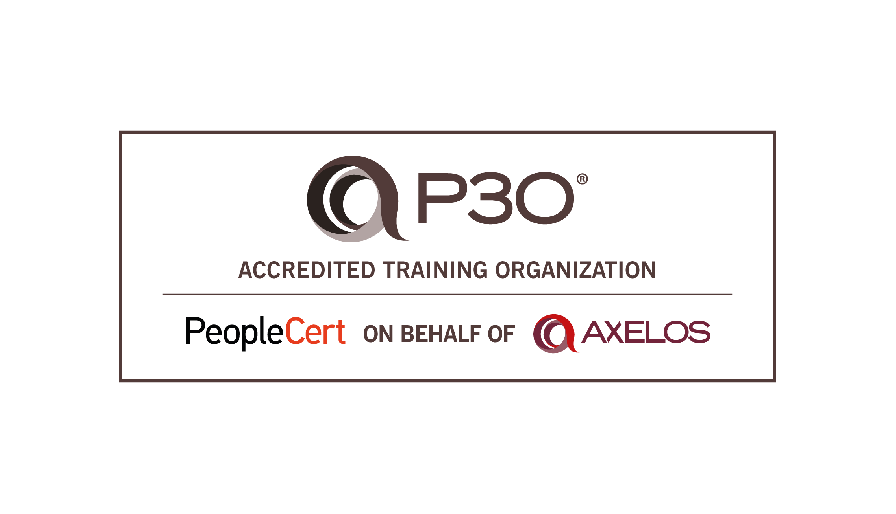 P3O® is a [registered] trade mark of AXELOS Limited, used under permission of AXELOS Limited. The swirl logo™ is a trade mark of AXELOS Limited, used under permission of AXELOS Limited. All rights reserved
Portfolio, Programme and Project Office (P3O®)
eLearning: £1,140.00 incl. VAT
Access: eLearning and Online exam for 12 months at Foundation & Practitioner level
Includes: Official eBook (Manual)
Duration: Approx. 14 hours
Pre-Requisites: Previous experience of P3O or Programme Office environment and completion of the pre-course reading
Are you looking for just the Foundation course?
eLearning:
Buy Now
In-House: £POA
Our In-House service offers the chance to have our course content delivered to you by one of our accredited and certified trainers either in your workplace or via a virtual event, over the duration of five days. For any further information, click the "More Information" button below or alternatively fill in the contact form at the bottom of the page.
In-House:
Enquire Now More Information
Course Description:
Portfolio, Programme and Project Offices (P3O®) is the standard developed by the UK government to enable individuals and organisations to establish, develop and maintain appropriate business support structures. The guidance brings together a set of principles, processes and techniques to facilitate effective Portfolio, Programme and Project Management by proposing proven enabling and support structures, roles and responsibilities. These structures also bridge the gap between the process of developing the organisation's strategy and that of its delivery.
Exam Information
P3O Foundation exam:
Multiple choice

70 live questions and 5 trail questions

35 marks or more required to pass (out of 70 avaliable) -50%

60 minutes

Closed book
P3O Practitoner exam:
Objective-based

80 questions per papaer

40 marks or more required to pass (out of 80 avaliable) -50%

150 minutes

Open book
Who is this course for?
This course is ideal for any staff involved in P30 roles who wish to gain a qualification, for example:
Head of P30® (Portfolio Office, Programme Office or Centre of Excellence)

Portfolio, Programme or Project Office staff

Portfolio, Programme or Project staff looking to work within a P3O® model.
Module 1 - Overview and Definitions
This section covers:
Understanding of Portfolios, Programmes and Projects:

Understanding the business as usual environment in which they are delivered

Definitions

Context of P3O®

P3O® Governance/Decision support responsibilities
Module 2 - Goverance Backbone
This section covers:
How P3O supports effective delivery of Portfolios, Pogrammes and Projects by linking to:

Strategy

Change

Business as usual
Module 3 - Business Case and Performance Measures
This section covers:
Answering the question: Why use P3O?

Justification for investment

How will we measure its success
Module 4 - Model Organisation Structures
This section covers:
Introduction to different types of P3O models and the pre-requisites to their success
Module 5 - Functions and Services
This section covers:
An understanding of P3O Functions and Service

How their emphasis may change dependent on the point of delivery

Processes models and options
Module 6 - Roles and Responsibilites
This section covers:
An introduction to typical roles found in a P3O model both generic and functional based roles

How responsibilities can be dispersed

Specialisms that might be needed

Structures that might be put into place

Relationships with delivery teams
Module 7 - Types of P3O
This section covers:
Developing a Vision and Business Case for a P3O

Defining a Blueprint and establishing a programme or project to deliver the blueprint

Permanent P3O and relationship with temporary office

Temporary office and their relationships with delivery teams
Module 8 - Tools Consideration
This section covers:
Understanding types of tools that are avaliable and when to use them

and t

he benefits and associated critical success factors

Tailored use of Tools and Techniques

Online Repository of Example Tools

Benefits

Facilitation Techniques and Workshops
For any further enquires for this course, fill in the contact form below and we will get back to you as soon as possible!